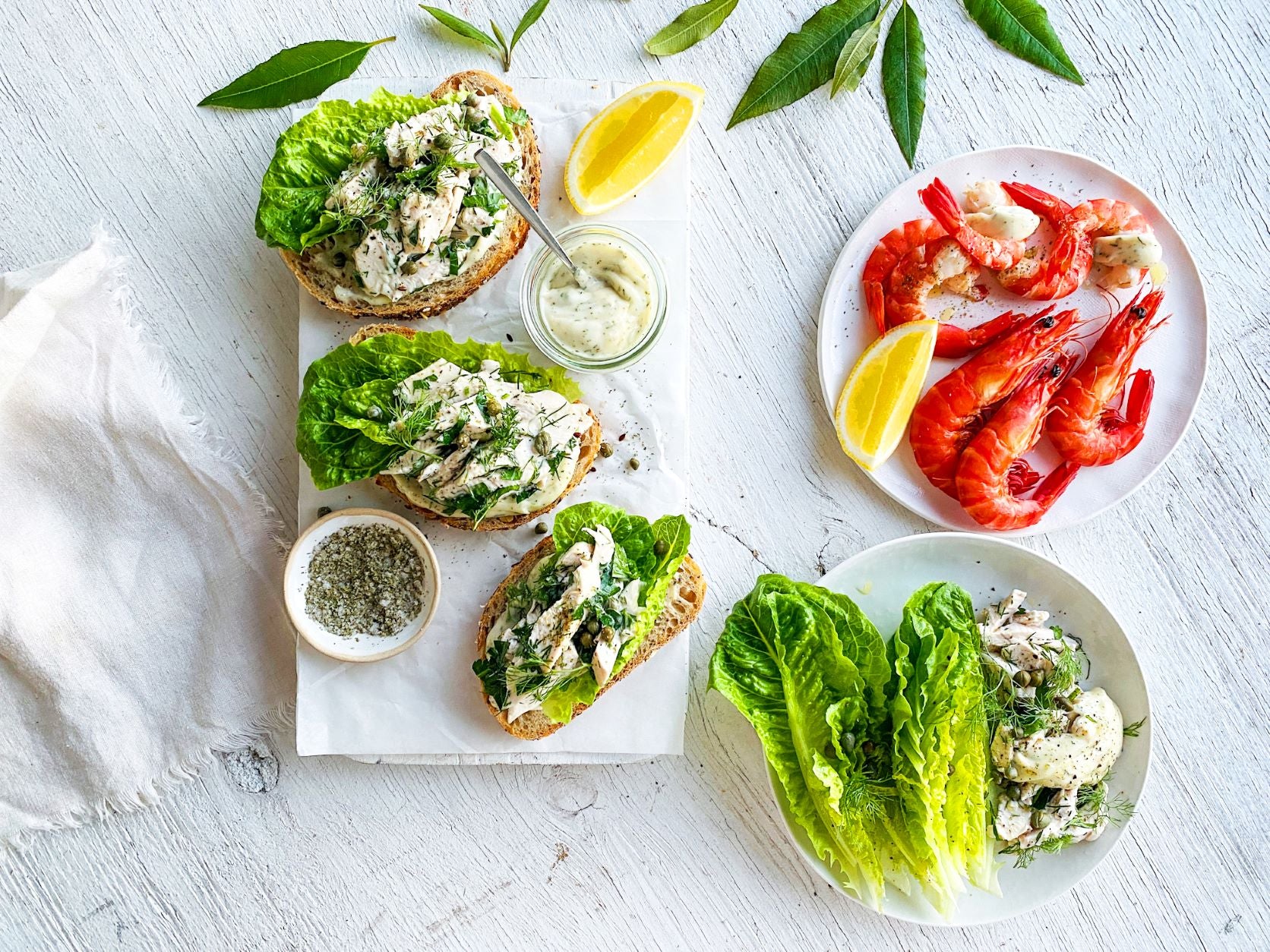 Lemon Myrtle Mayo Sandwich with Prawns - Tom Walton
Chicken mayo sandwiches and fresh prawns just screams care-free summer days.
Tom has used dried lemon myrtle in the mayonnaise for these dishes, which works so well offering its herbaceous, fresh lemony flavour to really give you another dimension of flavour without the acid, so you can still add things like lemon juice or a vinegar.
Recipes below, happy cooking.
Ingredients  
Method

Mayonnaise:


1 cup whole-egg mayonnaise
2 tsp 1.6mm cut dried lemon myrtle
1 clove garlic, crushed
Juice of half a lemon
Flake sea salt, black pepper
 
2 cooked chicken breasts (from a roast chicken)
½ cup combined flat leaf parsley and dill, roughly chopped
 
4 sliced sourdough
1 head cos lettuce, leaves washed and trimmed
12 cooked tiger prawns, peeled
 
2 tsp 1.6mm cut dried lemon myrtle
2 tbsp flake sea salt
 
1 lemon cut into wedges to serve

For the mayonnaise, mix all the ingredients together and lightly season to taste.

Slice the chicken breast, place into a bowl, add the parsley, half the mayonnaise and
adjust the seasoning to taste.
Grill or toast the sourdough then spread a little mayonnaise on each slice. Top with some of the cos leaves and then spoon the chicken on top.
Place the remaining mayonnaise into a small bowl to serve with the prawns and lemon wedges.
Combine the lemon myrtle and salt and sprinkle a pinch over the sandwiches and prawns.
Looking to try Lemon Myrtle? Request a sample.