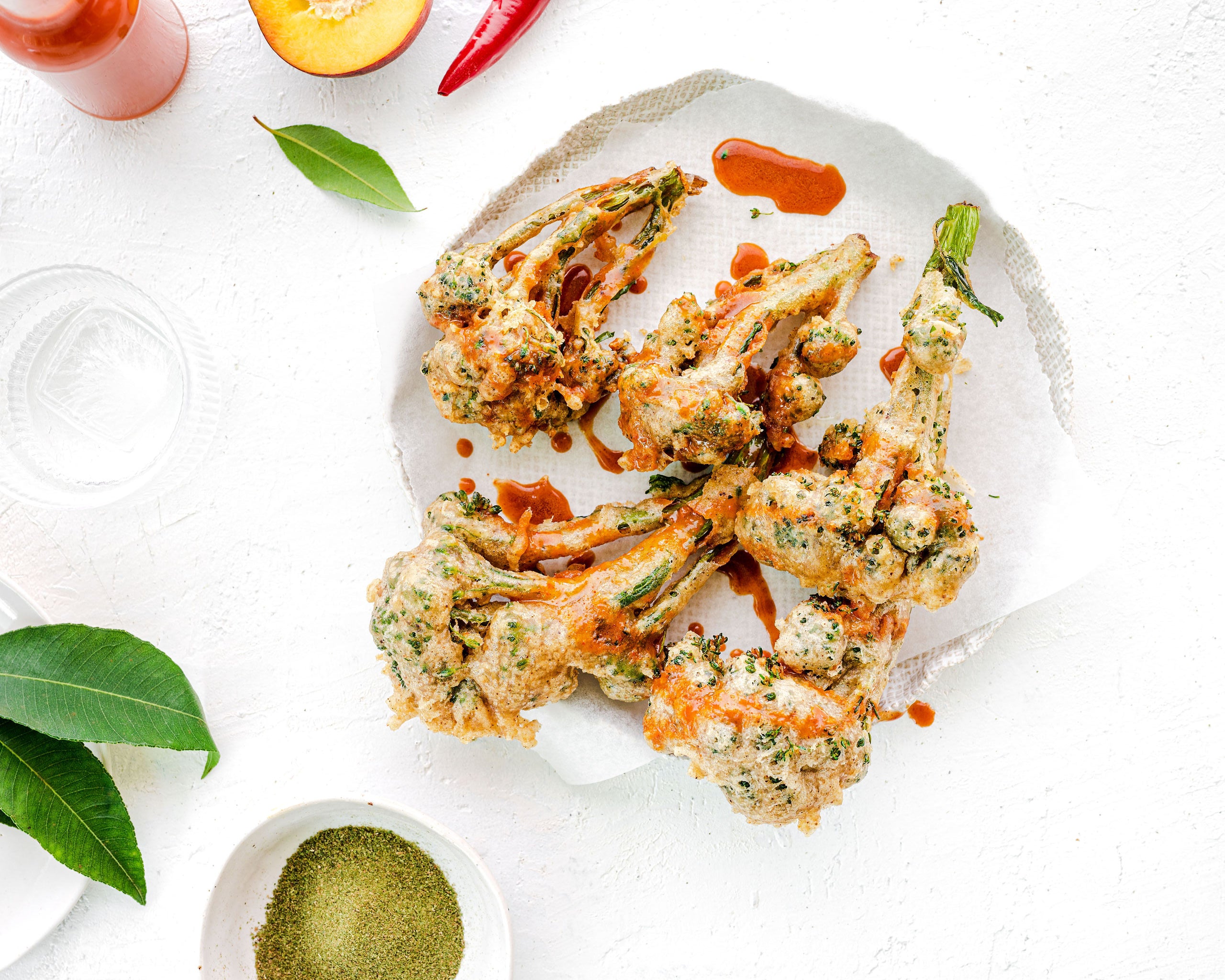 Fried Broccolini with Lemon Myrtle Hot Sauce - Simon Toohey
Lemon Myrtle and grilled peach hot sauce.  A flavour explosion condiment which can go on pretty much everything.
Lemon Myrtle adds the most amazing herbaceous and aromatic lemon flavour to not only food, but also sauces, beverages (like tea and cocktails), pretty much any cooking application.
And right here, Simon has paired it with his fried broccolini. Crispy, crunchy, on the outside, soft and delicious on the inside covered in this amazing hot sauce. I mean come on…. What more could you want?
Ingredients  
Method

1 bunch broccolini
fry oil
 
Batter:


100gm rice flour
100gm plain flour
50gm corn flour
2tsp baking powder
500ml cold water
1tsp smoked paprika
salt
 
Lemon myrtle hot sauce:


2 cups high quality white vinegar
1 tbls lemon myrtle powder
1 tsp salt
1 tsp black pepper
2 brown onions diced
4 cloves garlic
10 long red chillies, seeds removed
1 capsicum
2 cups grilled peaches
 
Sauce:
100gms cold margarine
1tsp smoked paprika
¼ tsp cayenne pepper

For the lemon myrtle hot sauce:


With the peaches, remove the pips and place on a baking tray, with the cut side down, and roast until dark in parts. Take the skins off.
Place in a food blender with the vinegar, lemon myrtle powder, salt, black pepper, onions, garlic, chili and capsicum, and blitz until a wet paste. Pour directly into bottles, or strain through a cheese cloth and then into bottles.

For the fried broccolini:


Mix the batter ingredients in a bowl. Dip the broccoli into the batter and then into the deep fry oil at 180 degrees. Fry until golden and crisp.
In the meantime, mix 100ml of your lemon myrtle hot sauce with the remaining sauce ingredients, and heat in a pan until combined, stirring all the time.  Turn off the heat when it starts to bubble. 
Place the fried broc into a bowl, pour over the hot sauce, and toss. 
Place in a bowl sprinkle over some chives to serve.

Tip:


The leftover lemon myrtle hot sauce can be stored in bottles in the fridge, and served alongside all your favourite meals.
Looking to try Lemon Myrtle? Request a sample.