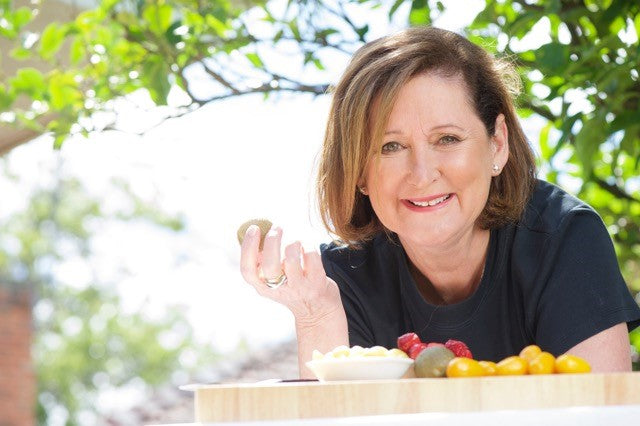 The Outback Chef – Incorporating Nature's Botanicals into the Everyday
Jude Mayall is the owner of Outback Chef and founder of Wild Food Farm, one of Australia's leading suppliers of native ingredients to both the hospitality industry and home cooks. We caught up with Jude to discuss her involvement in Indigenous art and how it fuelled her passion for native foods, as well as how she inspires others to use native ingredients.
How did you get involved in Australian bushfood?
I'm a confectioner by trade, so I've always had a lot to do with food, however my involvement with Australian native food goes back to the late '80s, early '90s.
I received an offer to work parttime at an Indigenous art gallery in the heart of Melbourne, which suited me perfectly as I had primary school-aged children and was looking to start a new business at the time. Shortly after, the owner asked if I could work fulltime due to a backlog of work. I ended up working there fulltime for the next 10 years!
I loved being immersed in the Indigenous art of The Kimberly and North East Arnhem Land, which told incredibly rich stories of gathering, food and the seasons.
Around 2005 I felt I wanted to explore my passion for food again, which led to the beginning of Outback Chef. During this time, we were based in Queensland where there was very little interest in commercialising native foods. While native food had a very long and rich history, modern cafes and restaurants were unsure about how they could add native ingredients to their menus.
In 2012, I moved down to Melbourne where I really began to pursue my passion for native ingredients. I believed that we should be seeing them in high-end restaurants, cafes, and corner shops. Outback Chef started incorporating native ingredients into three curry mixes and they really took off!
Tell us a bit about Outback Chef.
Outback Chef is all about creating products to help native food become part of menus and foods that we already know and love.
Initially, we were operating out of a warehouse but as we kept growing, we found ourselves wanting to expand the business further. That's why we decided to make the move down to Philip Island last year and open the Wild Food Farm.
We've got a gorgeous space down here with lots of native plants already growing at our café, a beautiful rainforest area that we're developing and a bush barbeque area too. We have some great spaces and fantastic plans for the area!
While the Wild Food Farm café has been closed due to COVID, we've still been selling our gift hampers, jams, preserves, syrups, spices, and teas via our online store.
Another key focus of ours has always been educational programs and working with chefs, so they can incorporate native ingredients into their menus. 
What products do you sell that include lemon myrtle?
We have our delicious curries that incorporate lemon myrtle, as well as our bush BBQ lemon pepper rub, which blends lemon myrtle and pepper berry. We also make teas with lemon myrtle, with one of our most popular blends being Australian lemon myrtle with green tea and ginger
In the café kitchen, we do a barramundi with a lemon myrtle and pepper berry batter!
Why do you think lemon myrtle is one of the most popular Australian bushfoods?
Lemon myrtle is considered the queen of the native food industry. We use it right across our product range. I think it has a flavour that many people enjoy and is easily recognised due to its punchy personality and profile.
We hold native food walks and talks on our property and people seem to recognise it as soon as they see the plant or smell the leaves. Lemon myrtle is definitely one that everyone knows!
Do you have a favourite recipe using lemon myrtle?
I must admit, I have so many because lemon myrtle is so versatile.
One of my favourites is a gin cocktail made with lemon myrtle. We make a simple lemon myrtle cordial with a kilo of sugar, a litre of water and 150 grams of lemon myrtle. All you need to do is put it over the stove until the sugar dissolves and store in the fridge overnight to allow the flavour to develop, before straining out the lemon myrtle leaves. When you're ready to make your drink, just add a good jigger of your favourite gin, some lemon myrtle syrup and a little bit of tonic water.
I also make a lovely lemon myrtle water. All you need to do is add one teaspoon of lemon myrtle to approximately one litre of water, then leave it to steep in the fridge overnight. When it's ready to drink, we sometimes add native lime to the bottom of the glass and a sprig of lemon myrtle. It's super simple but has a delicious flavour!