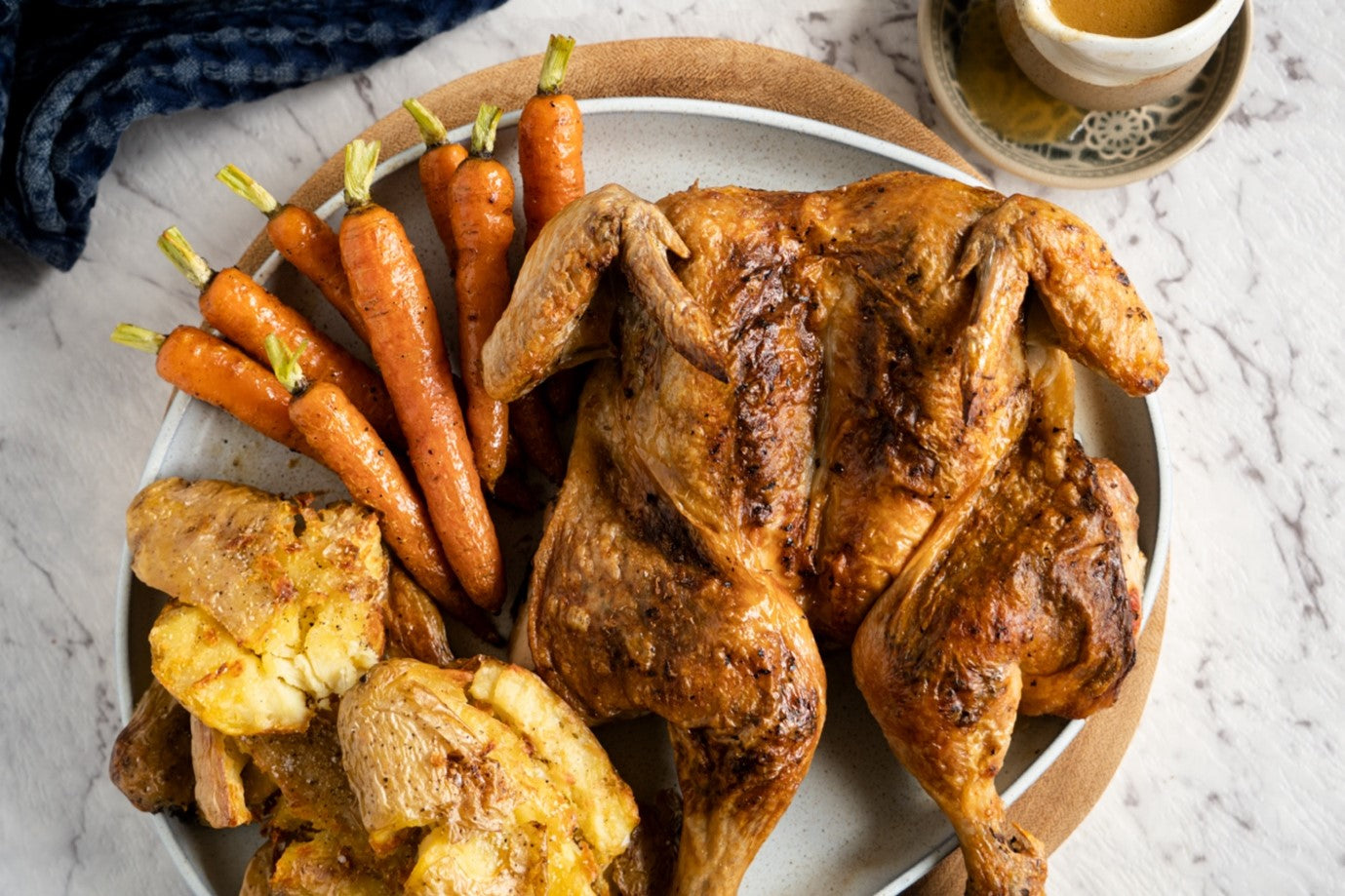 The Lemon Myrtle Dish The MasterChef Judges Never Got to Try
Lemon myrtle sent MasterChef contestant Trent Vu packing last month, as he became the first person eliminated from the competition this season.
We sat down with Trent for a chat about his experiences on the show and why he's promised to never stop cooking with lemon myrtle.
Trent, you're a big fan of cooking with lemon myrtle but in your MasterChef journey it was lemon myrtle that brought you undone! Tell us what went wrong?
Lemon myrtle roast chicken is actually one of my go-to dishes, I cook it all the time. At home, I dry brine the chicken with lemon myrtle and leave it in the fridge overnight to give the meat an incredible and balanced flavour.
I wasn't able to do that on the show though, so instead of doing a dry brine overnight I decided on the day of filming that I would mix lemon myrtle with butter and put it under the skin of the chicken to roast, for extra flavour.
I was just about to put the chicken in the oven when I realised that I'd made an error. I'd actually forgotten to add the lemon myrtle to the butter.
I was running out of time, so at the last minute I quickly tried to add as much dried lemon myrtle leaf as I could underneath the skin of the chicken. Unfortunately, in the heat of the moment I added too much.
I was praying to the MasterChef gods that someone else had made a worse mistake, but they had all cooked flawless dishes. It just wasn't meant to be.
Have you cooked with lemon myrtle since MasterChef?
I'm never going to stop using lemon myrtle. As soon as I got off the show, I bought a lemon myrtle plant and I've been using the fresh leaves in my cooking ever since.
I've used it in an Avgolemono, which is a Greek soup, and a lemon myrtle ice cream. They were both delicious. I've even made my lemon myrtle roast chicken again.
I've been experimenting quite a bit with Australian natives lately, including strawberry gum and Geraldton wax. We've got so many amazing natives here and I wanted to showcase that on MasterChef. We spend too much money importing foreign ingredients and we don't need to. There are so many beautiful flavours here already.
What do you love about lemon myrtle?
Lemon myrtle has a similar quality to lemongrass, which Vietnamese people love. So, as a Vietnamese Australian, I've always been drawn to the flavour.
Lemon myrtle's flavour is interesting and incredibly versatile. It can be used in both sweet and savoury foods. And I love that it's an Australian native ingredient!
What are your favourite foods to cook with lemon myrtle? Are there any other ingredients that it pairs well with?
Lemon myrtle doesn't have a straight-up citrus flavour. It's what I would call herbaceous. I think it goes best with anything that matches with lemongrass such as coconut, macadamia and chicken. I think it pairs well with lemon also, adding an extra dimension to that flavour in a dish.
Did you enjoy your time on MasterChef? What was the highlight?
I enjoyed it a lot! For me, MasterChef was always going to be about connecting with, and learning from, other like-minded people.
My highlight would be meeting Melissa Leong, who is a personal hero of mine, and Emelia Jackson. I love them both. It was awesome getting to know everyone else in the top 24 as well. I've made friends for life.
The Dish the MasterChef Judges Never Got to Try
Ingredients:
Lemon Myrtle Roast Chicken
1 chicken (1.2-1.5kg)
100g butter (softened)
1 tbsp dried lemon myrtle
Salt
Smash Potatoes
8 potatoes
Olive oil
Garlic salt (to taste)
Honey Roasted Carrots
1 bunch Dutch baby carrots
1 tbsp honey
1 tbsp olive oil
Salt (to taste)
Pepper (to taste)
Gravy
1-1 1/2 cups chicken stock (store-bought or homemade)
1 tbsp butter
1 tbsp flour
Chicken drippings
Method:
To butterfly the chicken, use a pair of kitchen scissors to carefully remove the spine of the chicken (you can reserve this to make stock). Make a cut through the breast bone, turn the chicken over and crack the breast bone. Pat the chicken dry, place on a foil-lined tray, cover with salt and lemon myrtle, and allow to dry brine in the fridge for at least 12 hrs.
Preheat oven to 230°C (210°C fan-forced). Line two baking trays and place a wire rack over one. 
Remove the chicken from the fridge to come to room temperature for 1 hour.
To make the roast potatoes, place in a large pot filled with cold, salted water. Bring to the boil and allow to cook for 1 hour or until soft. Place on a lined baking tray (leaving some space on the tray for the carrots), then press down using a potato masher or spoon. Drizzle liberally with olive oil. Place in the bottom rack of the oven and roast for 1 hour.
To prepare the chicken, brush off any salt and lemon myrtle from the chicken. Using your hands, carefully separate the skin from the breasts and legs, then rub some of the butter underneath. Rub the remaining butter on the outside. Place on the wire rack over a baking tray, then roast for 45-50 mins, or until fully cooked (use a thermometer to probe the thigh, which should be around 75-80°C). Allow to rest for 15 mins. Collect the drippings to make the gravy.
While the chicken is roasting, prepare the roasted carrots. Heat the honey in the microwave for 15 secs or until runny. Combine with the olive oil, then toss through the carrots. Season with salt and pepper. Place on the tray with the potatoes and roast for 25 mins, or until browned and fork tender.
To make the gravy, heat the butter in a saucepan over medium-low heat until melted and foamy. Add the flour, then cook, stirring, for 2 mins until golden brown. Slowly pour in the stock, starting with 1 cup. Pour in more stock to achieve your desired consistency, then stir through the drippings. Strain, and set aside.
To serve, quarter the chicken, then serve with roast potatoes, carrots and gravy.