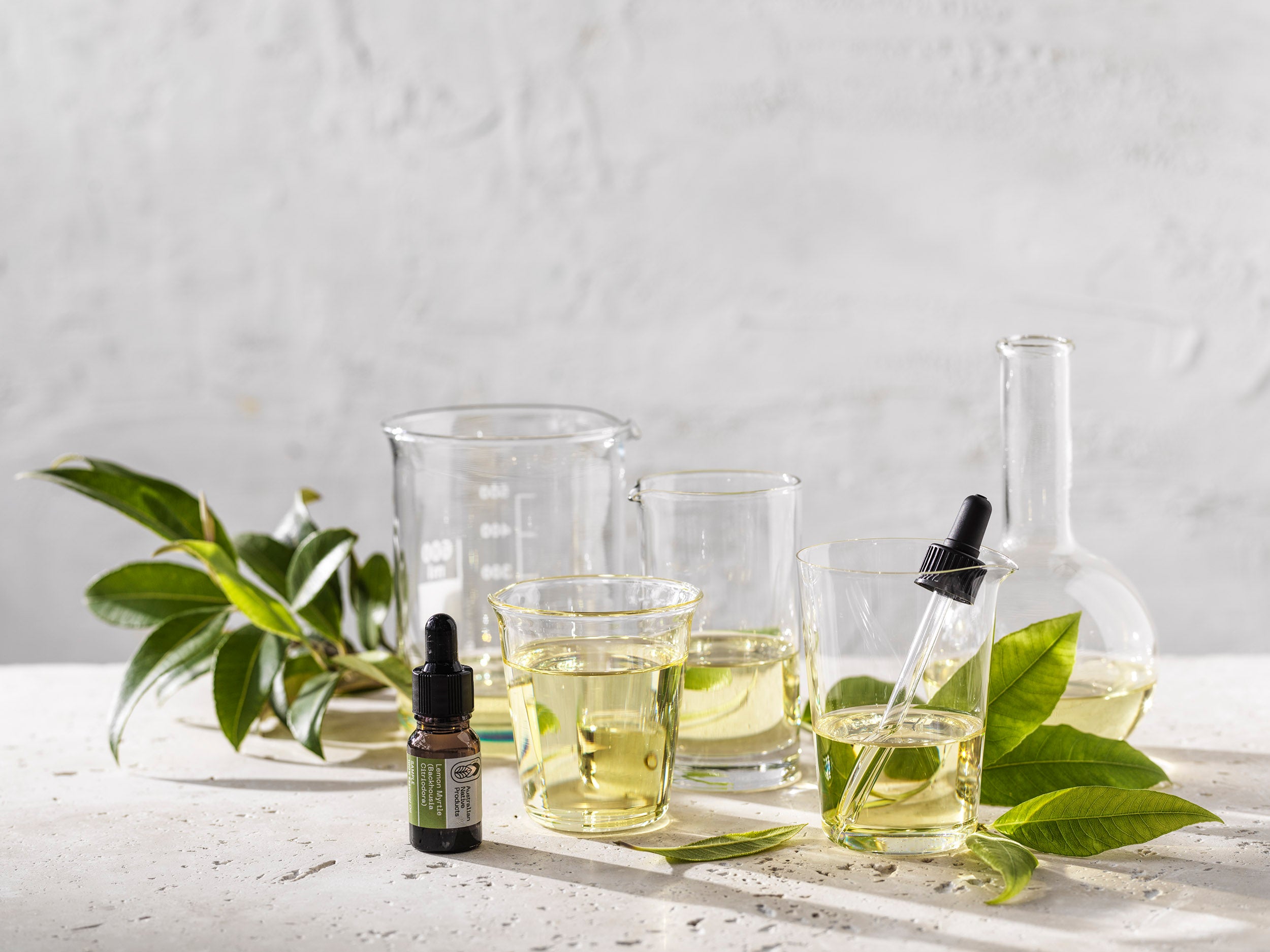 Why Unadulterated Lemon Myrtle Matters
Australian Native Products prides itself on transparency and supplying customers with the highest quality lemon myrtle products.
Our pure essential oil is steam distilled on our plantations, which allows us to process 100% pure lemon myrtle oil. But not all lemon essential oils are of the same standard.

Our team explains why it's so important that lemon myrtle essential oil is unadulterated and never watered down.
What are adulterated essential oils?
When an essential oil is adulterated, a natural or synthetic component has been added during the production process. This lowers the quality and effectiveness of the oil and can even be harmful. Some companies claiming to sell 100% lemon myrtle essential oil dilute their product, either with synthetic compounds or by blending in other essential oils with similar components, such as lemongrass and lemon verbena.
How can you tell if your lemon myrtle oil is adulterated?
Because standards of quality control do not currently exist in Australia, it's important to ensure your essential oils are coming from a reputable source. Always read the label to check whether a product is 100% pure and avoid products that say 'fragrance' or 'perfume' oil.
Unfortunately, it's becoming more and more difficult to identify whether the lemon myrtle essential oil has been adulterated. A Carbon-14(C-14) test, which can cost up to $1500, can be undertaken to detect synthetic compounds in essential oils. However, with companies now blending lemon myrtle essential with other organic products like lemon, lemongrass, lemon verbena oil, it's becoming harder to detect adulteration using the C-14 test.
How do we guarantee 100% pure lemon myrtle essential oil?
We have high testing standards to ensure our essential oils are of the highest quality. Prior to harvesting we test for microorganisms, maximum residue and heavy metals in every batch. Once harvested, each batch is then tested again.
After distillation, each essential oil batch is then numbered for traceability. This means we can track the entire production process for every bottle, including the specific block of land it was harvested from on our farm.
Our NSW farm also has a number of certificates in place, including SQF food safety, Freshcare, Kosher and AUS QUAL Certified Organic Processers. These standards help us guarantee the safety and credibility of our products.
We are currently looking to assist the Essential Oils Producers Association of Australia(EOPAA) in setting an international standard for lemon myrtle essential oil. With these new standards and testing, we may be able to detect if lemon myrtle oil has been blended with other essential oils in the production process.
Discover our ready-made products or get in touch with our friendly sales team to learn more about how your business can utilise essential oil.