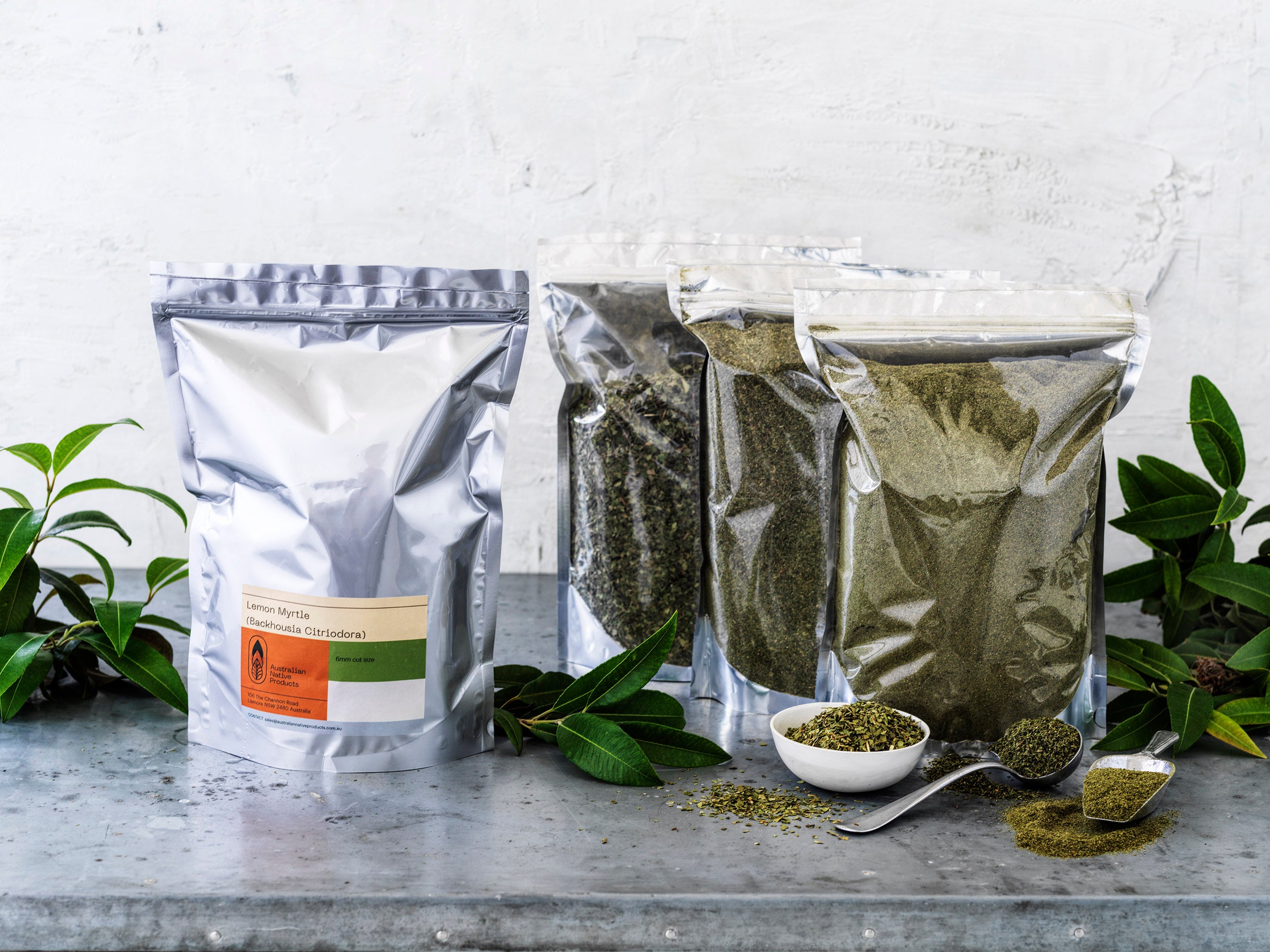 What To Look For in A Native Products Supplier
Vibrant, fresh, intensely flavoured, and nutrient dense - Australian native bushfoods are having more than a moment in the spotlight, they're on the trajectory to boom! Indigenous Australian culture has successfully used and cultivated these foods for thousands of years, but the commercialisation of many of Australia's more popular native flavours is comparatively quite young.
So how do you know what to look for in a native food supplier?
As one of the first growers to commercialise Australian native lemon myrtle and anise myrtle, we've seen the industry steadily build over the last two decades, and more recently, accelerate as food and drink manufacturers, household products, and beauty & personal care manufacturers look to native flavours, fragrances, and properties to enhance their products.
There are more than 6,500 types of native food in Australia, but only 13 that are FSANZ (Food Standards Australia New Zealand)-certified and developed for local and international markets, with many more ingredients emerging as the industry tries to keep pace with regulations.
These are our three supplier must-haves to check off so that you can guarantee a quality product.
Integrity and quality
This might seem like a no-brainer but doing your due diligence on the composition of the product, and where and how it's grown can make a big difference to its flavour profile and longevity.
Using lemon myrtle essential oil as an example, some oils are adulterated, which means a natural or synthetic component has been added during the production process. This lowers the quality and effectiveness of the oil, and can even be dangerous. Some companies claiming to sell 100% lemon myrtle essential oil dilute their product, either with synthetic compounds or by blending in other essential oils with similar components, such as lemongrass and lemon verbena.
Standards of quality control do not currently exist in Australia, so it's important to ensure your essential oils are coming from a reputable source. Always check whether a product is 100% pure and unadulterated, and avoid products that say 'fragrance' or 'perfume' oil.
Sustainable harvesting
One of the great things about Australia's native foods is the very fact that they're native. They have grown on this continent for thousands of years, adapting to the various climates, and evolving to be incredibly energy efficient. For commercialised plants like lemon myrtle, look for growers who use natural pest control methods, well-managed water supply, and minimal wastage (such as a whole-of-plant approach). Our sustainable farming practices ensure 100% of each lemon myrtle plant is used. The leaves are dried, the stems and smaller leaf particles are used in our distillation process, and we further recycle the by-products from distillation to make microfibre, hydrosol, or return it to the soil as mulch.
Many other native ingredients are hand-foraged along our coastlines, bushland, and deserts by smaller enterprises. Have peace of mind that your ingredients have been sourced ethically and the people foraging, many of whom are Indigenous Australians, are meaningfully involved in the business and remunerated accordingly. 
Packaging matters
A very practical must-have, but a must-have, nonetheless. The last thing you want is to find your new ingredients are losing their flavour or fragrance because they're not packaged properly. Australian Native Products has worked with the University of Queensland on packaging innovation to ensure fresher product and longer shelf life. Be sure to ask a prospective supplier about their processing systems, the types of packaging they use, and their product's shelf life as it will vary from product to product.
If you would like to find out more about using lemon myrtle in your products, please get in touch with us!