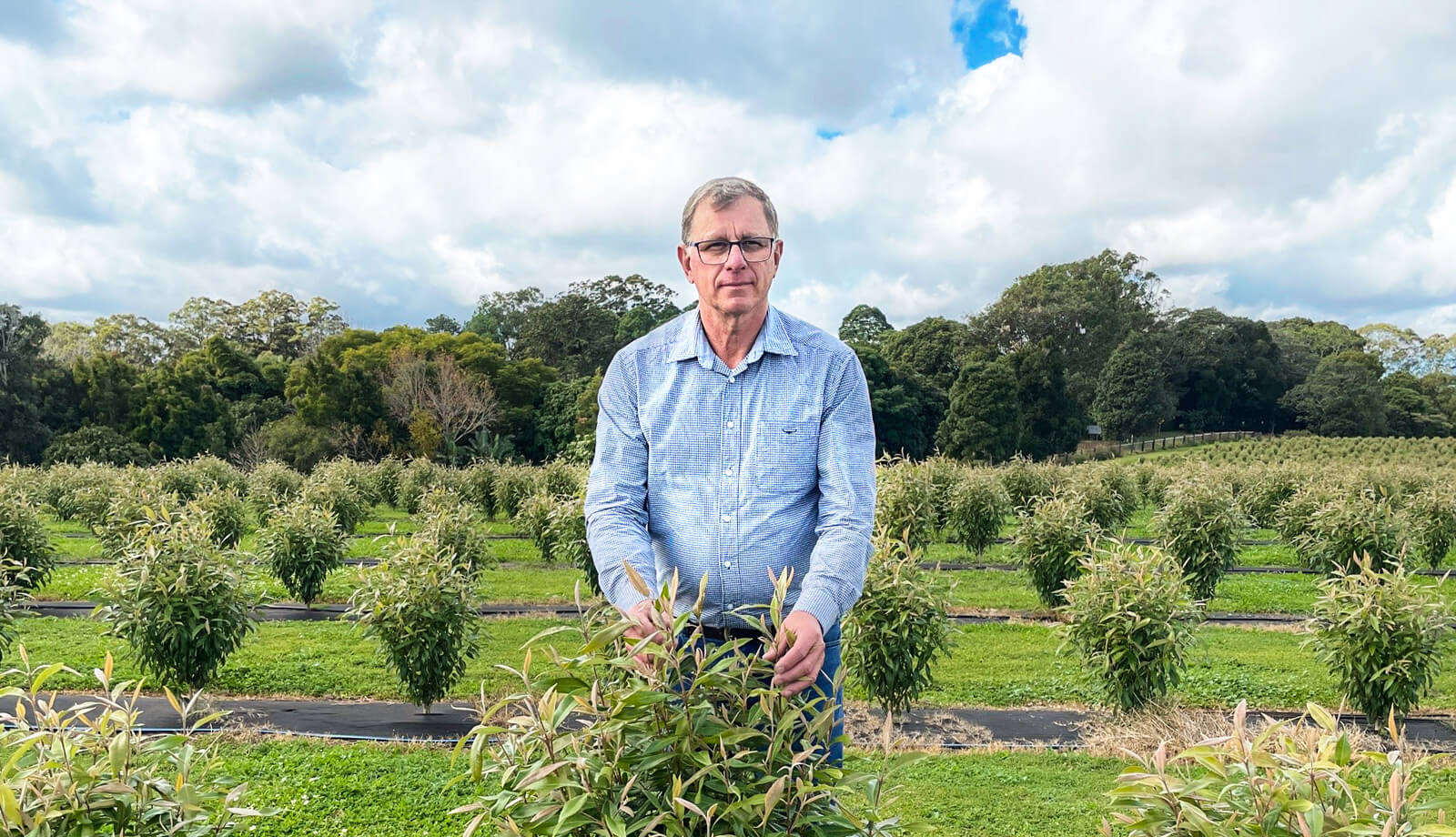 The Man Behind Lemon Myrtle's Success
We're excited to announce that next month, we're launching a brand-new content series called 'From Farm to Table'. We'll be sharing a behind-the-scenes look at how lemon myrtle is grown, harvested, processed, and sustainably supplied to our clients in Australia and around the world.
We can't wait to share that journey with you.
But first, we sat down with the founder of Australian Native Products, Gary Mazzorana, to hear the incredible story of how he introduced the 'queen of lemon herbs' to the world and helped pioneer the booming Australian natives market. 
Gary, when did you first encounter lemon myrtle? And what was that experience like?  
I acquired a property in 1994, in The Channon – the macadamia capital of Australia – and began considering what I would grow. Macadamias would have been the easy option and I was close to growing coffee at one point too.
Then I went to an emerging native foods conference with a friend of mine and lemon myrtle was the one that stood out. It was native to south-east Queensland and I thought it would be a great fit for our climate here in northern New South Wales. I saw an opportunity with the plant's vibrant flavour profile, which has so many great applications in cooking today.
But it was the moment when I first smelled the leaf, and saw the tree, that I said, 'hey this is for me'. It was new, with no existing production system or mechanisation, but it was the challenge I'd been searching for. 
Back in 1994, Australia's broader understanding of native ingredients was quite limited by today's standards. Was that something you thought about at the time?
There was a bit of publicity for Australian native ingredients on TV, but unfortunately the understanding wasn't there. People like the Bush Tucker Man were pioneers in showcasing native foods, and what Indigenous Australians lived on, but there was a negative connotation in the media that it was survival food, which isn't accurate at all.
There was very little known about the incredible flavour of native foods. The chance to help rectify that in Australia is another thing that attracted me to lemon myrtle. Of all the native plants, lemon myrtle has become such an incredible mainstream success.
When did you first realise the full potential of lemon myrtle as a commercial product?
I planted my first lemon myrtle in 1996, and nobody knew how it was going to go.
When we first started, the product was highly priced as we had to strip the leaf by hand, and we couldn't produce enough. As we started to commercialise, we built our own equipment to strip the leaf from the stem and dry the product efficiently.
We realised that if we were going to grow the industry in Australia, we had to get lemon myrtle classified as a novel food, which was quite a feat.
In conjunction with RIRDC, the Australian government's Rural Industries Research and Development Corporation, we worked to establish lemon myrtle as a food that could be sold into the European Union.
The tide changed after that. We began dealing with big European tea companies – and suddenly demand outstripped supply once again. We grew our product ranges and today, we're selling into big markets right around the world including Japan, Korea, and the USA.
What has been the biggest challenge you've faced along the way?
I lost a lot of sleep for many years worrying about how we could introduce mechanisation to our farming processes. When we started out, there was nothing like lemon myrtle in commercial agriculture. We adapted bits and pieces from many industries to develop our own unique harvester.
Our mechanical leaf-stripping process has evolved a great deal over the years and it's a big reason why ANP is still leading the world in lemon myrtle. We're innovative and constantly looking for market advantage by optimising our processes to boost quality, productivity and yield.
ANP has also invested significantly into lemon myrtle research. What can you tell us about that work?
We have been the instigators in establishing lemon myrtle as a commercial product. We got involved with the RIRDC, and jointly funded polyphenol and antibacterial testing, as well as anti-fungal and antiviral trials conducted by the University of Queensland. All that data is in the public domain now.
We've made significant discoveries concerning the health benefits of lemon myrtle. In some case studies, we've shown that lemon myrtle actually has a co-efficiency much higher than tea tree for the treatment of viral, fungal and bacterial infections, including candida.
This research investment is why we continue to see lemon myrtle increasingly used in all sorts of products, from insect repellents to toothpaste and soap. It also has many applications for the cleaning industry.
We've also led research and development in some areas that are under wraps for now, and we continue to be actively involved in R&D, as one of the fundamental values of our company.
As an industry leader, how has ANP grown and bettered the native food industry in Australia?
As the industry leader, ANP has taken lemon myrtle to the world market. This has helped to create interest in other native species, in particular with our current customer base who are always looking for new and innovative products. Australia has many new foods and botanicals to offer, that will in time be as well recognised as lemon myrtle.
Being a director on the board of ANFAB – Australian Native Foods and Botanicals – has been one way that I can contribute. There are around 4,000 foods that Indigenous Australians have consumed for over 60,000 years, but none of those foods will be accepted in the US or the EU until growers jump through the correct regulatory hoops.
We can play a big part in bringing other native foods to the forefront by sharing our knowledge and experiences with our peers who are trying to grow new and emerging crops.
We've already successfully navigated all the commercial and regulatory hurdles, not just overseas but also here domestically with the Australian and New Zealand Food Standards Board (FSANZ). I think we're well placed to help other growers take their Australian native ingredients to the world market.
Gary, you started ANP more than 25 years ago now but you're just as passionate about native ingredients as ever before. What keeps you going? 
Well, they said the Amazon was the last frontier of untapped native foods and well-being. But I think here in Australia we've only just begun to discover the true benefits of our native ingredients.
Our natives are totally unique and grown in very different environments to other places in the world. I think we're at the tip of the iceberg when it comes to understanding these plants. I've seen that constantly with lemon myrtle, and the incredible discoveries we've made.
I've still got a dream and vision for what lemon myrtle can become, globally. And I want to see that become a reality.