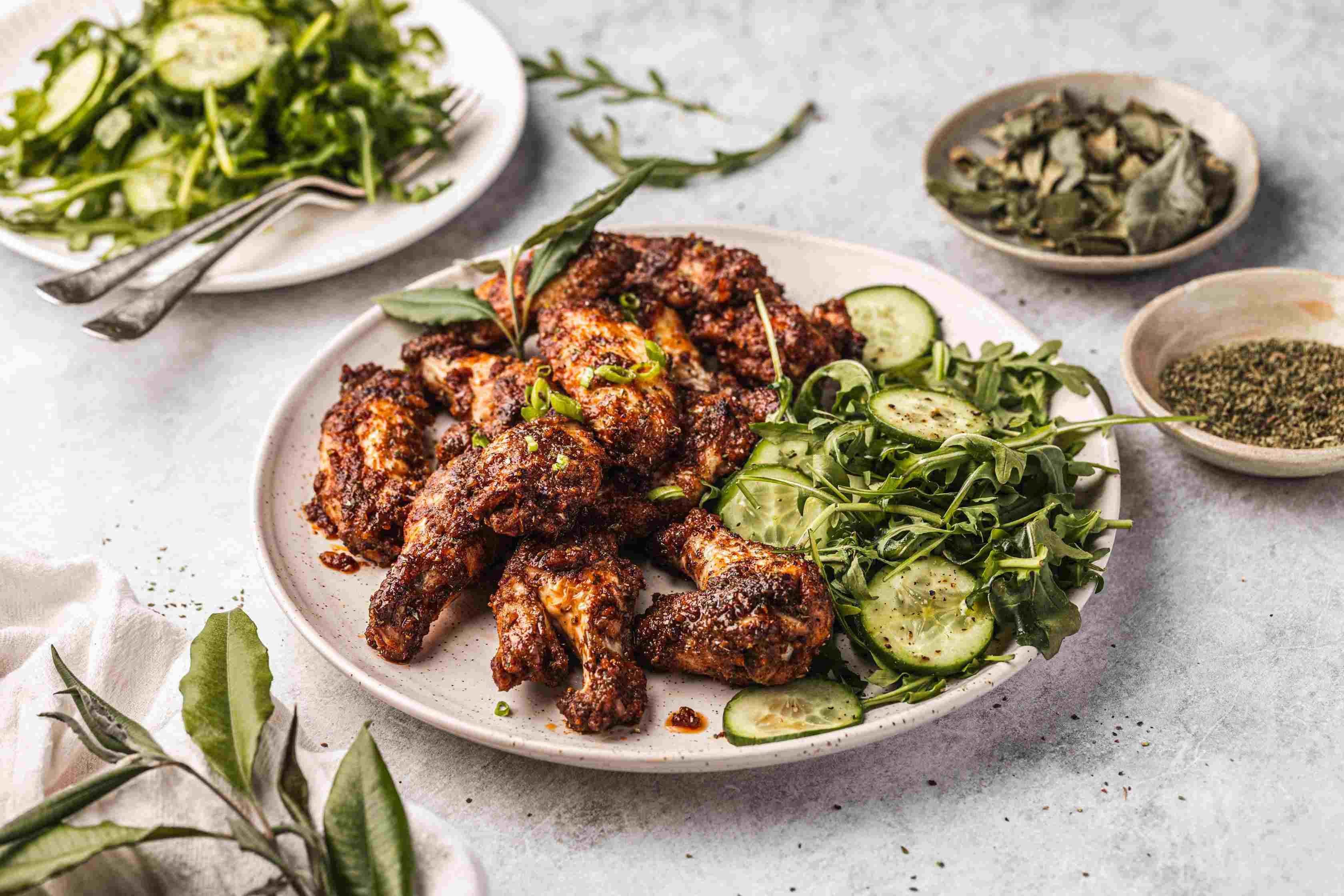 Spicy Lemon Myrtle Chicken Wings
These lemon-flavored wings kick them thanks to the homemade
sauce, lemon myrtle oil, lemon zest, and butter that went into their
preparation. If you enjoy the wings served at Wingstop, you will
adore this recipe. This is the ideal snack for a get-together.
Ingredients  
Method

500g chicken wing flaps (wingettes)
(i.e., the middle part of chicken wing)
4 cups of vegetable oil


For Chicken Wing Seasoning:
• 2 tsp garlic powder
• 2 tsp onion powder
• 1 tsp Five Spice powder
• Salt and pepper, to taste
• 1 tsp pepper
• 1 tsp lemon myrtle powder 1 tbsp
olive oil
 

For Flavouring:
• 2 tbsp olive oil (mentioned in method)
• 2 tbsp minced onion
• 1 tbsp minced garlic
• 1 tsp lemon myrtle powder 11⁄2 tbsp
lemon myrtle oil 11⁄2 tbsp fish sauce
• 1 tbsp honey
• 2 tsp chilli powder
• Salt and pepper to taste
 

1. Rinse chicken wings under cold water then pat dry with paper towel.Combine chicken wing
seasoning in a shallow bowl and add the chicken wings. Toss to coat then allow to coat the
chicken wings. Let sit at room temperature for 30 minutes.


2. In a large pot over medium heat, heat 4 cups of oil to 180°C. Divide chicken wings into 2 batches
and fry each batch until golden brown or cooked through. Drain on a plate or tray lined with paper
towel to absorb excess oil.


3. In a saucepan, Heat 2 tbsp oil in a frying pan over medium heat. and Sauté the onion and
garlic powder for 1-2 minutes or until fragrant. Add the other flavouring ingredients and cook
for around a further 2 minutes. and then Add the cooked chicken wings into saucepan and toss
until evenly coated.

Notes:
• Serve chicken wings with a side of garden salad.
• If using an air fryer, place chicken wings without overlapping in the air fryer. Cook at 180°C for 15
minutes. Flip chicken wings onto other side and increase temperature to 200°C and cook for 5-6
minutes, until the wings are crispy to your preference. Follow step 3 to cook the sauce, season
the chicken wings and serve.
Looking to try Lemon Myrtle? Request a sample.