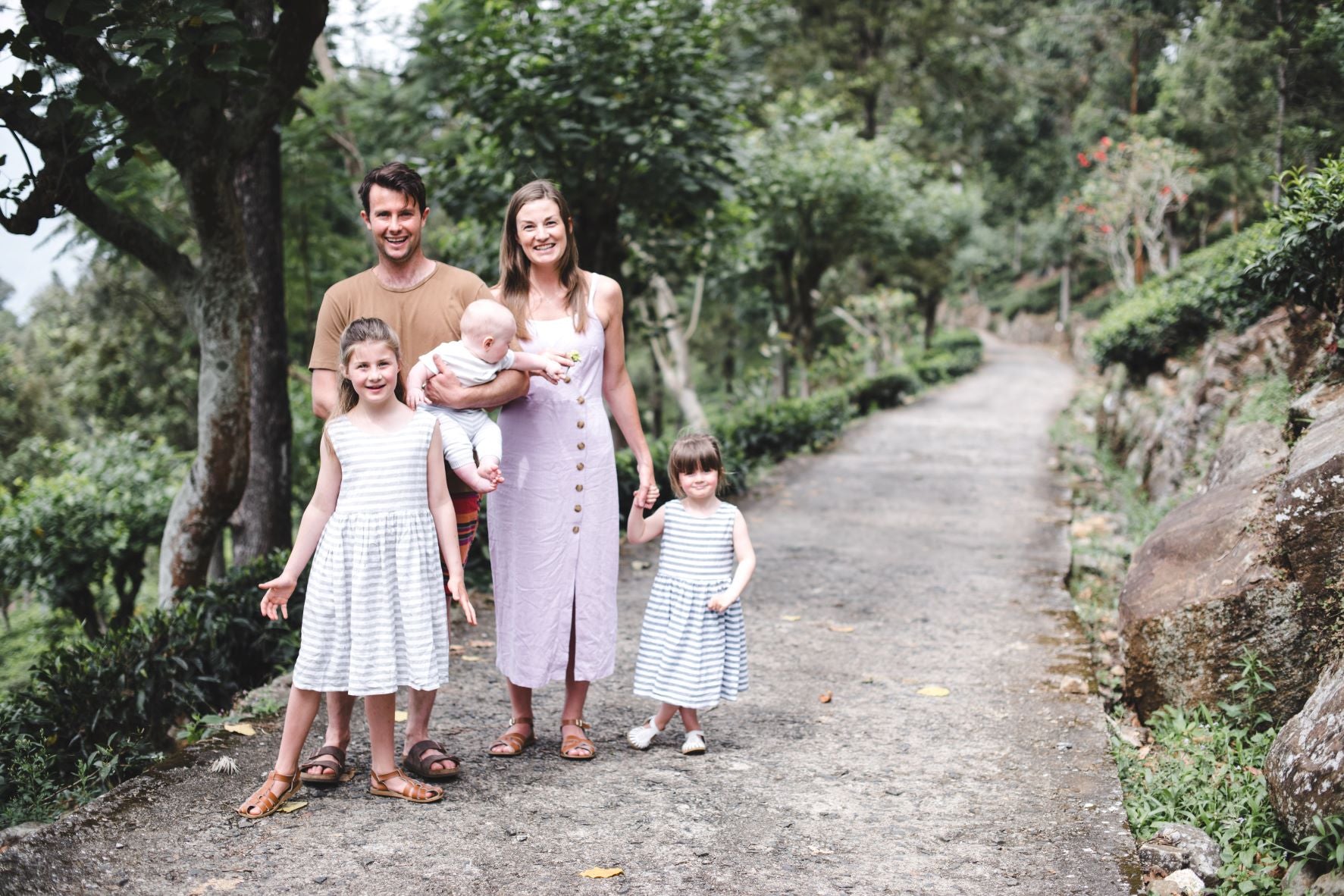 "Lemon Myrtle Inside" – the Hero of Love Tea's Australian Botanical Blend
Recently Love TeaTM created a new caffeine free tea blend to celebrate the diverse botanicals native to Australia. With no surprise, lemon myrtle became the hero ingredient, giving the blend a refreshing, uplifting and zesty note.  Here is a snapshot of how Love Tea evolved over the past 15 years, their values, and the role lemon myrtle plays in their tea blends.
Who are the founders of Love Tea, what's their story and why did they get into tea?
Love Tea was founded in Melbourne, Australia in 2006, by Naturopathy students Emma Watson and Damien Amos. Emma wanted to create beautiful products that were beneficial for customers' health and promoted wellbeing. Damien was passionate about organics, working directly with growing communities and looking after our planet.
After experimenting with organic teas, aromatic spices and therapeutic herbs for a number of years, Emma and Damien decided to make their tea obsession a full-time project. By 2012, the range included more than 20 different blends, and the business name was changed from Love Chai to Love Tea, to reflect the wide range of products on offer.
Today, Love Tea is a small group of dedicated folk who share the passion of making the world a better place. We are continuously progressing, evolving, improving, learning, and most importantly enjoying the journey we are all on together.
Why "Love Tea" - what's the story behind the brand name?
From the very beginning, our intention was pure. We simply wanted to create wholesome tea blends, that were good for people and that had the least amount of negative impact on the planet. The goal was to help people on their journey towards wellness, by crafting blends from an authentic and honest place. We put a great deal of care into the sourcing, the design and the production of each and every blend and we felt the word love really summed up this level of care and this pure and authentic desire to help. The name Love Tea was a natural fit for us.
Tell us your brand values and how these impact different areas of the business.
From the very beginning, Love Tea was created with personal values distilled into purpose. Purpose to live by the values that we believe are inherent in all of us. To have a positive impact on the world we love and those we share it with. This very purpose manifests itself in the choices we make in our operations each day, in our supply chain, our certifications, partnerships and in our friendships.
Organic
At Love Tea we choose to use high quality, certified organic ingredients in our products. We believe organic ingredients taste better, are better for your health and are better for the environment. Our products are not grown with synthetic fertilisers or herbicides, have no hidden ingredients, and have no additives or artificial flavours. They simply contain pure and natural ingredients just as nature intended.
Fair trade
At Love Tea we choose to fairly source the majority of our ingredients directly from the growing communities and cooperatives who produce them. We pay additional premiums for the ingredients grown on fair trade farms, and we are continually learning how we can have a more meaningful and positive impact on the lives of growers and their families at origin. Our goal is to have every relevant component in our supply chain sourced as a fair trade minimum.
For The Planet
At Love Tea we are dedicated to donating 1% of annual revenues to a range of environmental organisations as part of our commitment to 1% for the Planet. We believe it is our environmental responsibility to reduce our negative impact on the environment and continue to offer our support to not-for-profit organisations who have a single motivation, which is to solve the environmental crisis for future generations.
Our health
Our goal is to design products which support each individual on their journey to wellness, and ultimately help them become the best version of themselves. Our founding Naturopath, Emma Watson, continues to put an extensive amount of time, energy and care into researching the therapeutic efficacy of our unique products. Our intention is to create products which offer optimum therapeutic benefit, whilst maintaining exceptional flavour.
Created with care
We create our products with care and the very best intention. From the development and design process to packing and shipping, we care deeply about the choices we make and the impact on the world around us. Care truly is, at the centre of our every action. Starting with a big dream in a small home kitchen, we have evolved into a more specialised arrangement today. We skilfully craft, blend and pack each of our products in Melbourne. We are a family owned and run business, and we are proud to be producing our products in our home country, Australia.
When did you discover lemon myrtle?
We have enjoyed lemon myrtle for such a long time and always wanted to create a blend around it, but it took a while to work out how we could really honour the natural beauty of this botanical. We often thought it would be great to offer it on its own, but we really loved the concept of creating a blend to really celebrate the natural Australian botanicals and honouring them in a blend together, somewhat reflective of their natural existence in nature together.
What does it add to a tea blend?
The lemon myrtle really is the heart of our Australian Botanical blend. People often pick up the scent or the taste of the lemon myrtle before anything else in this blend and they fall in love with the natural beauty it offers. The lemon myrtle really brings this blend to life, often reminding people of the natural beauty of the Australian bush.
What was the vision behind the native blend? 
We offer quite an extensive range of teas, but we only have a couple from Australia and our range didn't really include a blend that really honoured our home country. We wanted to create something that was reminiscent of our home country and a real celebration of the diverse botanicals native to Australia. The lemon myrtle offers a zesty and uplifting quality which is complimented by eucalyptus, anise myrtle, and lemongrass, offering a refreshing caffeine free
blend.
What's the secret to a good cup of tea?
The quality of the tea leaves and the level of care we take when brewing a tea can make a big impact on the quality of the tea experience. The leaves will taste different if they are certified organic, or if they have been sprayed in production. The taste will also be affected by the time we take to prepare the tea. If we try to rush the process, the tea will never taste as good as when we allow it to infuse fully. It's also really important to consider the many different types of tea and be mindful that each type of tea requires a slightly different temperature and a
different brewing time. Paying attention to these factors will help guide you to a great cup of tea.
What does the future of tea look like?
Our vision is that the term organic is no longer relevant, as the only inputs used in agriculture are those from natural origins. That the term fair trade is no longer needed, as all trade is conducted on principles of fairness and equality. That the everyday discussions are not based on asking if our impact on the environment is real or not, but rather what the solutions are for right now and how we make a positive difference going forward. Our vision is that slowing down, treasuring each moment, appreciating each other, taking care of our health, and in turn
the health of our planet, has become our main priority. We hope that tea continues to evolve into a wholesome daily ritual globally, bringing people together, reminding them to slow down and to help guide them on their journey to wellness.