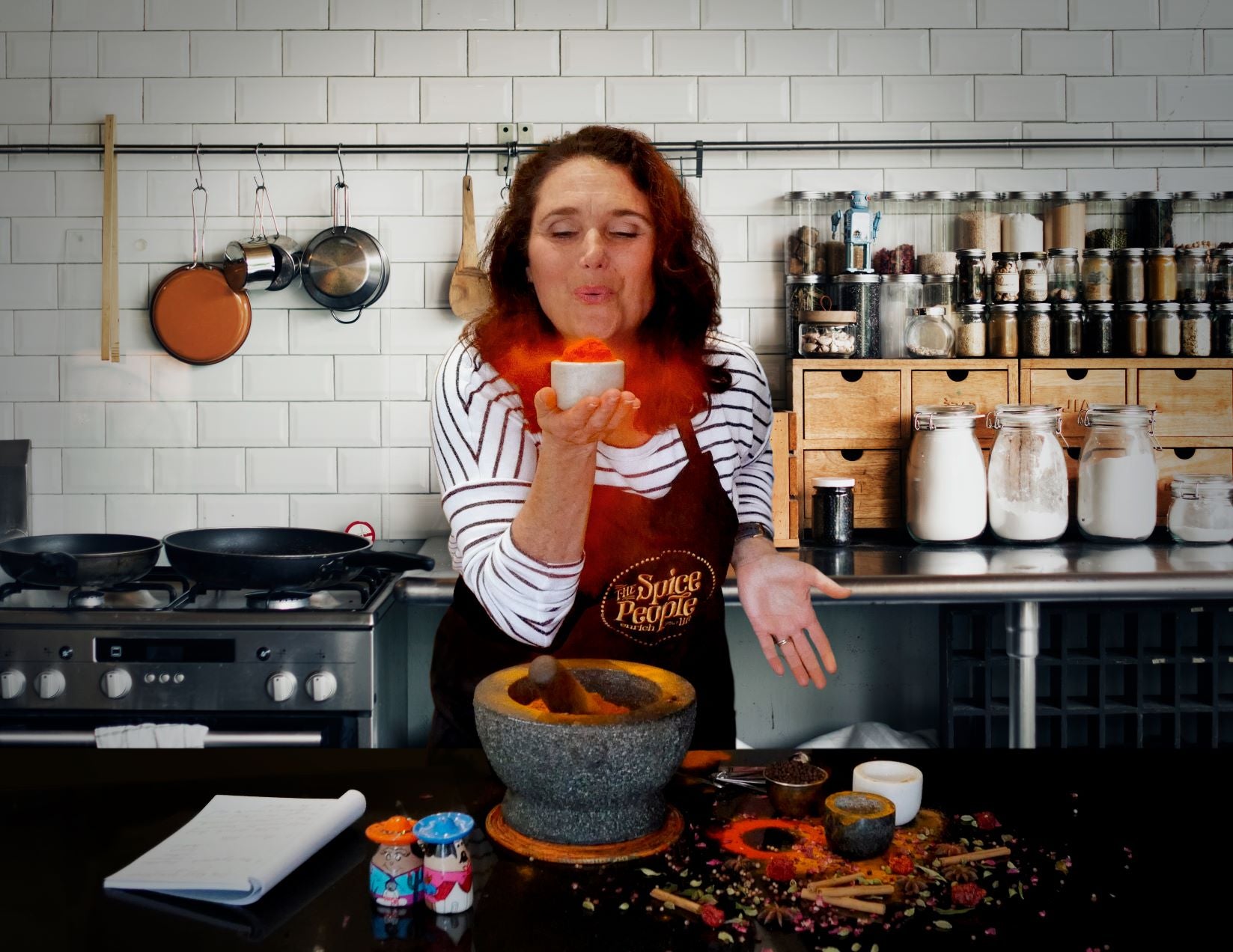 Elizabeth Edgecombe - The Spice People
Elizabeth Edgecombe is the founder of The Spice People, a company that specializes in unique herbs & spices. Elizabeth has been scouring the world for over 20 years to find the best herbs & spices, and she's passionate about sharing her finds with others. We sat down to talk about her journey as a spice trader and to share some of her favourite Lemon Myrtle recipes.
What's the story behind The Spice People?
The Spice People's journey began in 1997 with just me, a courier van and a great passion and love for herbs and spices. Growing up in rural NSW, I lived strongly by a paddock-to-plate philosophy and was taught from a young age the importance of producing food the natural way and was ingrained with an appetite for sharing the holistic benefits of herbs and spices. 24 years later, and what began as a passion project for me has grown into a thriving business with 200 products (and counting), a fantastic team of zealous foodies and our new brand Flavours of World launching last year.
Tell us about the launch of Flavours of the World:
A rise in the everyday home cook has seen smarter, savvier shoppers demanding high-quality and more sophisticated options from supermarket shelves when it comes to at-home meal solutions. We've removed the guess-work for them and invested in scouring the world's markets to deliver the best of our globe's dishes to Aussie shoppers quickly and easily.
Comprising 6 regions, 12 countries (and counting) and 48 delicious accompanying recipes, each one has been created to suit a range of diets and are easily adaptable. We have tweaked a few favourites and  added native spices like lemon myrtle (in place of lemongrass) and anise myrtle to give a little Aussie twist to our Thai Massaman and added Saffron Threads to our Spanish Paella for a more luxurious paella.
When did you discover lemon myrtle & anise myrtle?
We added Lemon Myrtle in the very early days back in 2000. We stocked whole lemon myrtle leaves, but I think we were a little ahead of our time and they didn't sell very well. Fast forward 20 years and the excellent new cooking shows and indigenous chefs have showcased this wonderful herb and how easy it is to use in everyday cooking and it now very popular. I have always been a fan of trying new flavours whether native to Australia or another country, so it was an easy decision to promote lemon myrtle to our customer base. Despite slow sales in the beginning, we kept it in our range and switched to Lemon Myrtle Crushed Leaves  from Australian native products and slowly but surely, we have seen a huge increase in demand. A much newer addition to our native range is Anise Myrtle – we found it's a great native alternative to star anise or fennel in our curries and have been experimenting with flavour profiles to see where we can introduce this it into our blends.
What's your go to recipe for using lemon myrtle?  

For a savoury dish I would have to say my Pepper Berry & Lemon Myrtle-Spiced Prawns with Lemon Myrtle Mayo. It's such an easy-to-whip-up dinner or great party snack and showcases our beautiful Aussie prawns perfectly. The combination of floral Pepper Berry Leaf and zesty lemon myrtle is a match made in heaven and dipped into a creamy lemon myrtle mayo, you simply cannot stop at one! 
For sweet, it is without a doubt my Lemon Myrtle & Pear Syrup Cake, it's the perfect combination of sweet and tangy with a herby twist and a to-die-for moist texture.
What does the future of spices look like?
Very positive. The world trend in spices has increased four-fold during the last 2 years and people are discovering the many ways you can add spices into everyday cooking that goes beyond just basic seasoning. The trend towards vegetarian and vegan diets is also a boon for herbs and spices as what better way to create rich bold flavours to vegetables & grains.