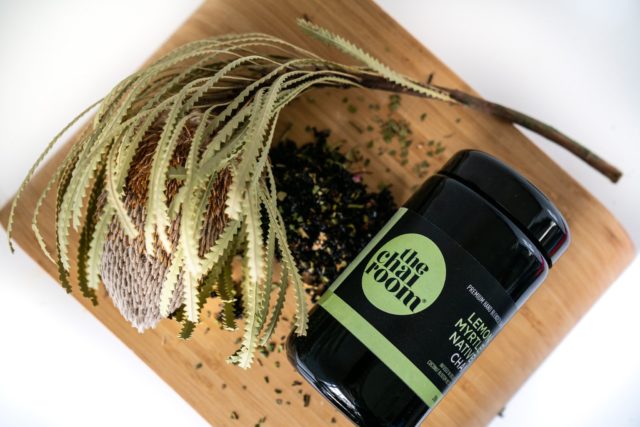 The Chai Room – Building Connections with Native Ingredients
Fatema Khanbhai is the founder of The Chai Room, an Australian company that sells premium, hand-crafted and organic chai to tea-lovers. We sat down with her to discuss how each blend tells a story of culture and connection, including their Native Lemon Myrtle blend which is a nod to the land of Australia and its rich offerings. 
Why did you start The Chai Room?

I started the chai room as a way to build a connection with others. I wanted to share my love and passion for chai with the community around me and help people to enjoy the rituals and the taste of an authentic masala chai. 
What sets your product apart from the other chai teas and blends?

Our masala chai blends tell a story of our Indian diaspora. Each blend is an ode to all the places that we have settled, called home and made connections with, across the globe. Our blends include, true, authentic tasting Indian chai – right through to our Lemon Myrtle which is the latest addition to our heritage and a nod to the land of Australia and her rich offerings. 
On your website you say that chai is rooted in tradition. Why do you think people have held onto it after so many years? And do you think it's important we preserve this tradition? 

Sharing our tradition of tea has helped to create and deepen the connection I have with others and to feel that this is also my home… The beauty of a tradition is how adaptable it can be, yet still offer a source of comfort, especially being so far away from home and those dear to me. By sharing our tradition and rituals of chai, we have encountered so many people from different cultures which is the part I love most about The Chai Room. 
Where did you come across lemon myrtle and why did you decide to include it in your product range?
I have a deep connection with Lemon Myrtle as it is one of the first native bush herbs I came across when we first arrived in Australia. Over the years I have used this fragrant herb in so many dishes and I use native lemon myrtle essence as part of my skin regime and I burn the oil throughout the house, which gives a beautiful fresh, calming fragrance to the atmosphere.

It took me a while to settle here and feel totally at home so when I did, I had to honour the part Lemon myrtle had to play in helping me feel welcome and at home. I have delicately balanced fragrant lemon myrtle with some of our signature chai spices which is infused with organic coconut nectar blossom. There are subtle notes of citrus, combined with a natural sweetness which gives an overall creamy fresh flavour note.

The story of our Lemon myrtle native chai as well as our other blends, is a dream that I have of creating a universal tolerance and unity towards each other, where we can all find a way to connect  over a cup of chai.  
How do you create the perfect chai with your award-winning lemon myrtle blend?
You can prepare our blend in two ways; the quick method or the stovetop method (find out more about this method at www.thechairoom.com).
The quick method is as follows; pour just-boiled water over a heaped teaspoon of our Lemon Myrtle Native Chai. Our custom Chai Room infuser makes this quick and easy… Just steep for up to three minutes, pull the infuser out of the cup, carefully lay on the infuser tray and serve. This beautiful creamy blend can be consumed with or without a dash of milk.